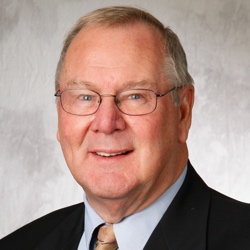 Frank Highley
Counsel
Legal Assistant: Tracey Baker (baker@cohenhighley.com, ext. 339)
Frank's practice includes extensive experience in bankruptcy, receivership, construction liens, secured transactions and priority disputes between secured lenders. He has extensive experience in the agricultural, retail and manufacturing sectors, and has experience in international insolvency transactions.
Frank's experience includes acting for a debtor company in a CCAA filing, a debtor company in a fraudulent conveyance/oppression remedy matter, defending claims brought with respect to personal and corporate guarantees, and claims for breach of trust under the Construction Lien Act. Frank also acts for creditors and does work for various banking institutions and, in addition, acts for several large corporations with respect to their secured lending requirements.
Frank has also prepared papers, participated in seminars relating to and been involved in teaching situations at Western University, where he taught Commercial Law and Secured Transactions. He has also been a senior instructor in Debtor-Creditor Relations at the Ontario Bar Admission Course.
Education & Experience
Frank graduated from the University of Windsor where, as Gold Medalist in 1970, he obtained a Baccalaureate Degree in Political Science and Economics, and subsequently a Bachelor of Laws Degree. He was called to the Bar in 1975.
Memberships & Affiliations
Canadian Bar Association
Middlesex County Trustee and Receivers Association
Middlesex Law Association
Ontario Bar Association
Member of the Superintendent of Bankruptcy Task Force considering role and abolition of the Registrar in Bankruptcy
Served on Law Society of Upper Canada Standards Committee on Certification of Specialist in Bankruptcy and Insolvency Law
Member of Board of Directors for Hospice of London
Former Member of the Board of Directors for Family Services London
Served as External Governor for Fanshawe College, and subsequently for 2 years as Chair of the Board of Governors